HVI-TEC entwickelt und fertigt hochwertige Sicherheits- und Kommunikationssysteme zum Schutz von Menschen, Gebäuden und Werten.
HVI-TEC develops and manufactures high-quality security and communication systems to protect people, buildings and assets.
HVI-TEC développe et fabrique des systèmes de sécurité et de communication de haute qualité pour protéger les personnes, les bâtiments et les biens.
Wir freuen uns, Ihnen unseren neuen Newsletter präsentieren zu dürfen.
Wir möchten Sie auf diesem Weg über neue Produktentwicklungen, Anwendungsbeispiele
und weitere interessante Themen und Neuigkeiten aus unserem Haus informieren.
We are pleased to present our new newsletter to you.
We would like to use this opportunity to inform you about new product developments,
application examples and other interesting topics and news from our company.
Nous sommes heureux de vous présenter notre nouvelle newsletter.
Nous aimerions profiter de cette opportunité pour vous informer sur les développements de nouveaux produits,
des exemples d'application et d'autres sujets intéressants et nouvelles de notre société.
UNSERE NEUSTEN PRODUKTE:
OUR LATEST PRODUCTS :
NOS DERNIERS PRODUITS :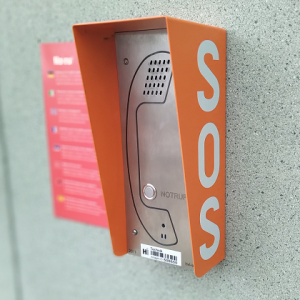 Unsere Notsprechstellen sind äusserst widerstandsfähig, allwettertauglich IP 65, Beschriftung lasergraviert und UV beständige Farbe.
So können sie leichter lokalisiert werden und garantieren volle Funktionsbereitschaft im Notfall.
Bedienungsfreundlichkeit optimiert auf Ihre Bedürfnisse oder angepasst auf Ihr Sicherheitskonzept.
Nebst dem Gehäuse kann auch die Drucktaste (HMI) individuell nach Ihren Bedürfnissen und Vorstellungen ausgewählt werden.

Our emergency call stations are extremely robust, weatherproof IP 65, laser-engraved lettering and UV-resistant paint.
This makes them easier to locate and guarantees full functionality in an emergency.
Ease of use optimized to your needs or adapted to your security concept.
In addition to the housing, the push button (HMI) can also be selected individually according to your needs and ideas.

Nos pupitres d'appel d'urgence sont extrêmement robustes, résistants aux intempéries IP 65, avec des lettres gravées au laser et une peinture résistante aux UV.
Cela les rend plus faciles à localiser et garantit une fonctionnalité complète en cas d'urgence.
Facilité d'utilisation optimisée selon vos besoins ou adaptée à votre concept de sécurité.
En plus du boîtier, le bouton poussoir (IHM) peut également être sélectionné individuellement en fonction de vos besoins et de vos idées.
UNSERE HIGH-TECH PRODUKTE:
OUR HIGH-TECH PRODUCTS :
NOS HIGH-TECH PRODUITS :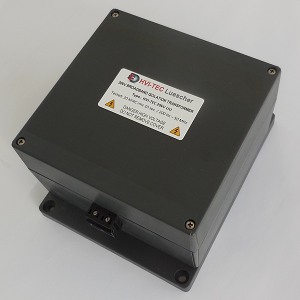 Die Leitungstrennung Einheit sorgt für eine hohe Spannungsisolation auf analogen Telefonleitungen mit
Breitbandservice zu "Hot" Sites wie Hochspannungsunterstationen.
Der HVI-TEC-Isolator ist für 10 kV, 15 kV oder 20 kV erhältlich und kann auf
ADSL-, ADSL 2+ -, SDSL-, SHDSL-, SHDSL.bis-, VDSL-, VDSL2- und G.fast-Serviceleitungen verwendet werden..

The Line Isolating Unit provides high voltage isolation on analogue telephone lines with broadband delivered to "Hot"sites
such as high voltage electricity sub-stations that are subject to a rise of earth potential.
The HVI-TEC isolator is available for 10kV, 15kV or 20kV and may be used on
ADSL, ADSL 2+, SDSL, SHDSL, SHDSL.bis, VDSL, VDSL2 & G.fast service lines.

L'unité d'isolement de ligne fournit une isolation haute tension sur les lignes téléphoniques analogiques avec une large bande
livrée aux sites «chauds» tels que les sous-stations électriques haute tension qui sont soumises à une augmentation du potentiel de terre.
L'isolateur HVI-TEC est disponible pour 10 kV, 15 kV ou 20 kV et peut être utilisé sur les lignes de service
ADSL, ADSL 2+, SDSL, SHDSL, SHDSL.bis, VDSL, VDSL2 et G.fast.
EINE UNSERER SPEZIALITÄT:
ONE OF OUR SPECIALTY :
UNE DE NOTRE SPÉCIALITÉ :
Personalisieren auch Sie Ihre Freisprechtelefone.
You can also personalize your handsfree telephones.
Vous pouvez également personnaliser vos téléphones mains libres.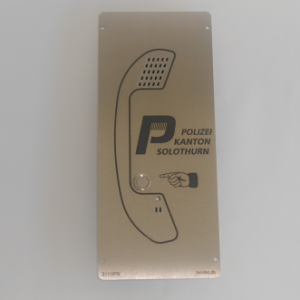 HVI-TEC liefert wetterfeste (IP65) Freisprechtelefone, auch Massanfertigungen in Spezial Grössen,
für den Ersatz von bestehenden Gegensprechanlagen oder nicht mehr erhältlichen Telefonen.
Die Frontplatten bestehen aus 3mm INOX, geschliffen und können nach Kundenwunsch Lasergraviert werden.

HVI-TEC supplies weatherproof (IP65) handsfree telephones, also made to measure in special sizes,
for the replacement of existing intercom systems or telephones that are no longer available.
The front panels are made of 3mm INOX, ground and can be laser engraved according to customer requirements.

HVI-TEC fournit des téléphones mains libres résistants aux intempéries (IP65), également fabriqués sur mesure dans des tailles spéciales,
pour le remplacement des systèmes d'interphonie existants ou des téléphones qui ne sont plus disponibles.
Les panneaux avant sont en INOX 3 mm, rectifiés et peuvent être gravés au laser selon les exigences du client.
JETZT BESONDERS AKTUELL:
ONE OF OUR SPECIALTY :
UNE DE NOTRE SPÉCIALITÉ :
HVI-TEC swimming pool radio emergency call column.
Vous pouvez également personnaliser vos téléphones mains libres.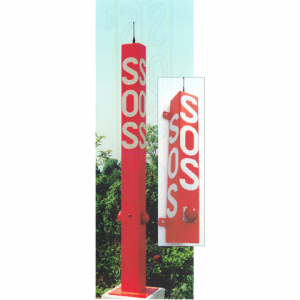 Wenn es im Sommer beim Baden einen Notfall gibt – einen Badeunfall, einen Herzstillstand – ist schnelle Hilfe erforderlich.
Es muss schnell gehen – professionelle Helfer alarmieren – aber oft fehlt das Handy für schnelle Hilfe.
Oft bleibt das Handy aus Angst vor Diebstahl im Auto oder zu Hause.
Notruftelefone können in Aussenpools, an Flüssen und Seen Lebensretter sein.

If there is an emergency while bathing in summer – a bathing accident, a cardiac arrest – quick help is required.
It has to be done quickly – alert professional helpers – but often the cell phone is missing for quick help.
Often the cell phone is left in the car or at home for fear of theft.
Emergency telephones can be lifesavers in outdoor pools, on rivers and lakes.

En cas d'urgence pendant le bain en été – un accident de bain, un arrêt cardiaque – une aide rapide est nécessaire.
Cela doit être fait rapidement – alertez les assistants professionnels – mais souvent le téléphone portable manque pour une aide rapide.
Souvent, le téléphone portable est laissé dans la voiture ou à la maison par peur du vol.
Les téléphones d'urgence peuvent sauver des vies dans les piscines extérieures, sur les rivières et les lacs.
Unser Angebot

Innovative Lösungen für Übertragungstechnik, ICT und Gebäudeinformatik
Our products and services

Innovative solutions for transmission technology, ICT and building informatics
Nos offres

Solutions innovantes pour les technologies de transmission, les TIC et l'informatique du bâtiment
Sind Sie bereit?
Sehr gut. Wir auch, unser überarbeiteten Produkte sind sofort verfügbar.


Are you ready ?
Very well. We too, our revised products are available immediately.
Tu es prêt ?
Très bien. Nous aussi, nos produits révisés sont disponibles immédiatement.
Copyright © 2021 HVI-TEC Luescher, All rights reserved.
HVI-TEC SwissQuality

Telecommunication Equipment
Our mailing address is:
HVI-TEC Luescher
Albisriederstrasse 350
8047 Zurich, Switzerland
+41 44 585 18 00
info@hvi-tec.ch